Postdoctoral Training
The postdoctoral experience at UC San Diego emphasizes scholarship and continued academic training in preparation for a permanent position in academe, industry, government, or the nonprofit sector. For many doctorates, postdoctoral work is an essential step in the educational process and may include opportunities to enhance teaching and other professional skills.
The Department of Cellular and Molecular Medicine offers rigorous training opportunities for postdoctoral research in cell biology, molecular biology, cancer biology, microbiology, glycobiology, development, gene regulation, genetics and genomics. In addition, the department also offers strong support for furthering the career opportunities of postdoctoral fellows. Over 80 fellows have trained in departmental laboratories since 1990, many having gone on to career positions in academia, biotechnology and the pharmaceutical industry.
Opportunities for postdoctoral research can be found by contacting individual faculty members directly.
Resources for Postdoctoral Scholars at UC San Diego
Postdoc Spotlight
Dr. Tae Hoon Kim came to CMM to conduct postdoctoral research in Bing Ren's laboratory. He graduated from Harvard in 2002 with a Ph.D. in Biochemistry. He is now an Associate Professor in the department of Biological Sciences at the University of Texas at Dallas.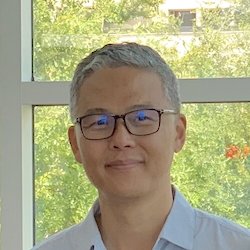 Dr. Tae Hoon Kim
Functional Genomics Laboratory