Dr. Pradipta Ghosh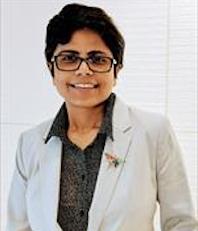 Dr. Ghosh obtained her medical degree from Christian Medical College, Vellore, in India. She started her career in science under the mentorship of Stuart Kornfeld at Washington University in St. Louis, Missouri, before beginning her internship and residency in internal medicine and a postdoctoral training in the laboratory of Marilyn G. Farquhar here at UC San Diego. Her postdoctoral work has directly led to the characterization of a novel stratum in signal transduction by a unique class of molecules, which she christened GEMs, an abbreviation for Guanine nucleotide Exchange Modulators".
Since being appointed at UCSD, the Ghosh lab continues to investigate how G proteins and their modulators, GEMs, are regulated by receptor and non-receptor tyrosine kinases /phosphatases that are triggered by growth factors. In launching the Institute for Network Medicine (iNetMed), Pradipta's goal is to not only reveal the importance of GEMs in health and diseases, but also unravel other molecules like GEMs that support a complete system of network-protocols for cellular communication; in short, she seeks to decode the Intranet of cells (IoC) using a transdisciplinary approach. The iNetMed also supports the complete pipeline for network-based target identification and validation through our own Precision Network Medicine initiative, which includes HUMANOID™, a human organoid-based platform. While network-based drug discovery can offer precision in targeting, HUMANOID allows personalized disease-modeling platforms for drug screening. Dr. Ghosh's overall vision is to drive disruptive research in biology, medicine and engineering using the fundamentals of the IoC paradigm, with the ultimate goal of enhancing, enriching and improving human existence.
About the Lab
The Ghosh lab strives to study the cell biology of signal transduction, with a focus on heterotrimeric G-proteins (trimeric-GTPases). These classes of G proteins have been found on a variety of intracellular membranes since the early 1990's; what they do there remained a mystery. We have systematically pursued in-depth the biological implications of this intracellular trimeric-GTPase system; it is modulated by a novel family of guanine-nucleotide exchange modulators (GEMs) and is fundamentally distinct from the conventional trimeric-GTPase signaling from the cell surface by G protein-coupled receptors (GPCRs).
We were one of the original discoverers of this signaling system beginning with the discovery of GIV-GEM, and subsequently extending to 3 other members (NUCB1/2 and Daple-GEMs). We showed that GEMs serve as vital platforms for intracellular communication networks; they coordinate cellular responses and organellar function in cells responding to environmental signals initiated by diverse classes of receptors, thereby allowing non-GPCRs to engage with and modulate trimeric-GTPases. Using the powerful synergy of cell, molecular and structural biology, molecular imaging, systems biology and bioinformatics, we showed the crucial importance of the GEM system in coordinating diverse cellular processes and revealed the mechanistic basis of their GEM action. As a physician-scientist, my group relentlessly pursued why/how aberrations in the GEM system spur pathogenic conditions such as cancer progression, fibrosis and insulin resistance, and provided the impetus to develop drugs targeting GEMs in these and other disease states.
Although modulation of trimeric-GTPases by GPCRs remains a core target of modern medicine, our discoveries have revealed that trimeric-GTPase signaling via GEMs is just as important, if not more, for coordinating cellular responses in physiology and for diagnosing and alleviating human suffering.
Contact Us
Pradipta Ghosh, M.D.
Professor
Departments of Medicine and Cellular and Molecular Medicine
Director, Institute for Network Medicine [iNetMed.ucsd.edu]
Executive Director, HUMANOID™ Center of Research Excellence (CoRE)
Lab Location
University of California San Diego
George Palade Laboratories for Cellular and Molecular Medicine (GPL Building)
Rooms 232 (office) & 239A-E (laboratory)
Mailing Address
University of California, San Diego
9500 Gilman Drive, Mail Code 0651
La Jolla, CA 92093-0651
Office Phone
858-822-7633
Lab Phone
858-822-7635
858-246-2216 (lab)
Fax
858-822-7636