Denial Press Release
"This is perhaps the most exciting idea in evolution that I have read since Darwin. Danny Brower's manuscript survived his untimely death and how it came to Ajit Varki's hands is an evolutionary story in itself. Varki is a renowned physician-scientist, and what Ajit is doing is to take this manuscript and reworking it, producing a work of beauty and simplicity. It is the tale of the very thing that makes us human. A marvel."
— Abraham Verghese, author of Cutting for Stone
"Denial isn't often regarded as a positive thing, but according to this stimulating speculation on consciousness and evolution, it could be the key to human intelligence... An engaging tour of evolutionary biology, anthropology, and cognitive psychology, touching on everything from animal intelligence to autism, religion, and extraterrestrial life. Theirs is a provocative and philosophically rich... account of human origins."
— Publishers Weekly
"Groundbreaking new ideas often come from the most unexpected sources. Here is such an instance, wherein two scholars from disparate disciplines unrelated to human origins have come up with a completely novel theory--to explain one of the most fundamental of human questions: where did we humans come from, and how did we get here? A must read for anyone interested in this age-old quest."
— Peter Agre, winner of the Nobel Prize in Chemistry, Johns Hopkins Bloomberg School of Public Health
"Quite a book, with a revolutionary point of view that I find critically interesting. An enormous effort — an intriguing message and a major contribution."
— Roger Guillemin, winner of the Nobel Prize in Physiology or Medicine, Salk Institute for Biological Studies, La Jolla, CA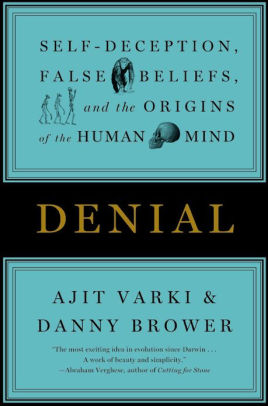 The history of science abounds with momentous theories that disrupted conventional wisdom and yet were eventually proven true. Ajit Varki and Danny Brower's "Mind-Over-Reality" theory is poised to be one such idea ― a concept that runs counter to commonly held notions about human evolution, but which may hold the key to understanding why humans evolved as we did, leaving all other related species far behind. In Denial: Self Deception, False Beliefs, and the Origins of the Human Mind (Twelve Hardcover and Ebook; June 4, 2013; $27.00), which has advance quotes from two Nobel prize- winning scientists and various bestselling writers, Varki and Brower offer us their revolutionary theory that alters our understanding of human evolution.
At a chance meeting in 2005, Danny Brower posed an unusual idea to Ajit Varki that that he believed could explain the origins of human uniqueness among the world's species in a revolutionary way. Haunted by this encounter, Varki tried years later to contact Brower, only to discover that he had died unexpectedly. Inspired by an unfinished manuscript Brower left behind, Denial represents a unique collaboration that integrates Varki's own knowledge on human origins to explain what sets us apart from other animal species: our ability to fully understand the minds of others. This single evolutionary leap, they argue, required crossing a psychological barrier: giving us the uniquely human ability to deny reality in the face of inarguable evidence-including the willful ignorance of our own inevitable deaths. However, our unique instinct for denial will also be our undoing, if we continue to disregard the consequences of unrealistic approaches to everything from personal health to financial risk-taking to climate change. Only in understanding this radical new idea can we hope to tackle the many vexing issues facing us today, and to imagine where our species might go from here.
Presented in homage to Brower's original thinking, Denial offers a powerful warning about the dangers inherent in our remarkable ability to ignore reality-a gift that will either lead to our downfall, or continue to be our greatest asset.